Chairman Message
"Schooling is in the progression of major change in any evolution of civilization" (Archbishop Dr. Joseph Arshad)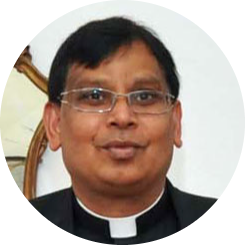 Life without meaning brings no hope and life without hope brings no faith. This may also reflect that without hope life is meaningless. But Together HOPE and FAITH will lead you into the future. We should remember the message of His Holiness Pope Francis for choosing a better life.
"Choosing the humble path of common life is worth more than a thousand words."
Each change requires an instructive pathway (education) that includes everybody. This is why it's essential to establish an "Education Village" where everyone shares the commitment towards shaping a web of genuine and open relationships with each other.
I hoped that "the reflections and attempts to change literacy learning environments may contribute to developing a civilization of harmony, unity, solidarity, brotherhood, and permanent peace." Therefore, our institution focus on high standards of teachings and learnings, in order to enable the alumnae to become impactful leaders (The Bests) also useful & effective citizens and to secure employment par excellence during their schooling, to learn the art of building relationships within teams, defining identities, and achieving tasks effectively.
Chairman Archbishop
Dr. JOSEPH ARSHAD